Salvation Army Seattle Temple Corps Hosptial Visitation
The Salvation Army United States of America
Western Territory (USA West)
Northwest Division
Seattle, Washington
Salvation Army Seattle Temple Corps Hosptial Visitation is a page about the Hospital Visitation my wife, Bonna, and I did at The Salvation Army Seattle Temple Corps.
---
---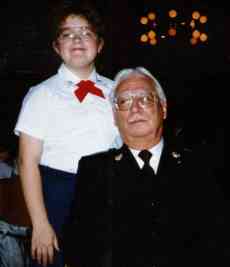 My daughter, Jordana Ross, with J.D. Hopps
In all of my life, I've never understood why kids like J.D. Hopps so much. He's a crotchety old fellow, but he loves kids and has taught hundreds how to play brass instruments and how to conduct music. Bonna and I visited every soldier of the Seattle Temple Corps that went into the hospital. J.D. had a problem which nearly caused his death. Frequently, Bonna and I would visit him in the hospital and Jordana, who was nine years old, made a lot of those visits with us. One day, we were sitting in J.D.'s hospital room talking to him after he had been moved out of intensive care. As we talked, a nurse came in with a huge needle.
We asked if we should leave and she said, "On no. That won't be necessary, I'm just going to put him to sleep." Jordana got a shocked look on her face. Her eyes were wide open and her face lost all of its color. We decided to leave and were walking down the hallway. I turned to Jordana and asked her what the problem was. Her eyes teared up and she said, "Are they really going to put J.D. to sleep?" I said, "Sure. He hasn't been able to sleep very well. " She started to cry and I asked her why she was crying. She said, "Tim and Marcia put their dog to sleep because he was too old and now we'll never see J.D. again." I had to explain the difference between my brother "putting his dog to sleep" and J.D. getting a good nap. We have breakfast every Saturday morning with J.D. and two other friends.
---
Back to the Radiant Crest
Visit Salvationist.org. Register to find old friends. Tell which Salvation Army corps you have attended in the past and now. Your friends will be able to find you. We've found friends we hadn't seen in thirty years within minutes after registering.
Tell your Salvation Army friends about this website. Chapter Ten about our Seattle Temple Corps Experience is going to be very interesting, but you have to read every chapter in order to understand Chapter 10. You won't be disappointed.

---
Webmaster : Dr Dan drdan71@aol.com
Dan Ross Bonna Ross Jordana Ross Dan & Bonna Ross Dan and Bonna Ross drdan71, drdan71@aol.com cornucopiagenealogica 09/30/03
Make a Family Tree on Ancestry.com - It's Free!! Click on the banner below: