Salvation Army Salinas Young People's Music Camp
The Salvation Army United States of America
Western Territory (USA West)
Del Oro Division
Salinas, California

The Herndon Band, U.K., "Praise"
Salvation Army Salinas Young People's Music Camp page is about a day camp my wife, Bonna, and I conducted at the Salvation Army Salinas Corps in Salinas, California, while soldiers at The Salvation Army Seattle Temple Corps.
---
The Salinas Corps, California, Young People's Music Camp
Bonna and I spent a month at the Salvation Army Salinas Corps in California where we taught about 35 children how to play the cornet.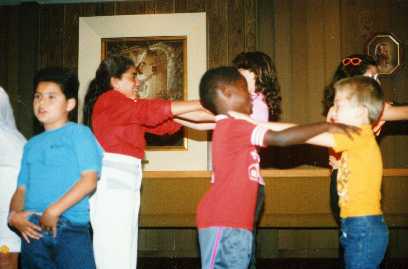 In the Salvation Army Salinas Corps, in California, we found that a play was being produced, but rehearsals had been going on for several months with no end in sight. With a little nudge from Bonna, the play rehearsals ended and the play was put on.
---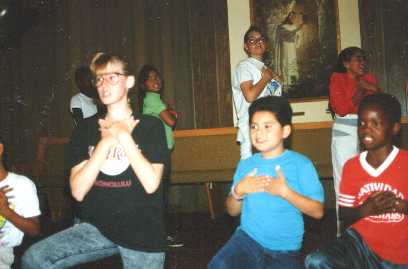 Lizzie was a great helper during the music day camp helping finish off the play.
---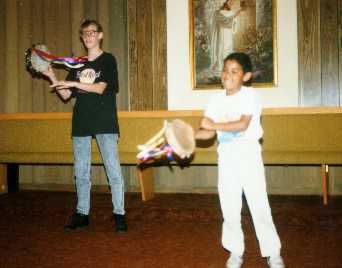 The girls were taught to play tambourines. Lizzie is such a great teacher
---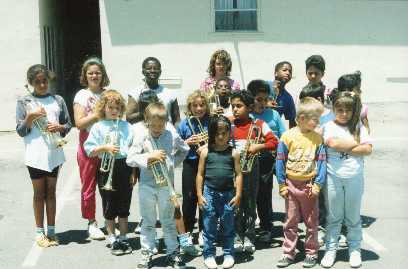 We rented about 35 cornets. This was the first day the first group held their cornets. I still cringe seeing this. I was just hoping we could get through this without someone dropping a cornet. We got a good deal on the rental because the owner of the music store in Salinas was the son of Salvation Army officers.
---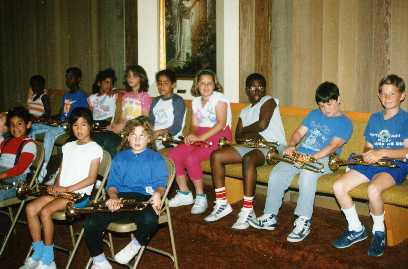 We sat the kids down with their cornets and taught them how to hold them, pick them up on cure to play and blow a note, then put them back down properly on their laps. I was still worried about somebody dropping a cornet. The Salvation Army would not be happy buying a bent cornet.
---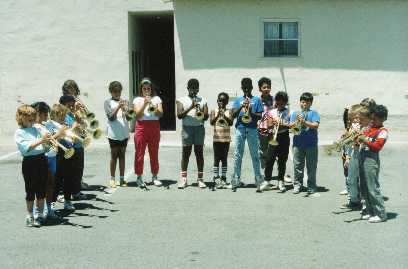 "In the open air we play our happy song...."
And that song would be .......
"Hot Cross Buns" of course.
Finally, the kids could all play a couple of tunes. We actually put on the play, the girls played tambourines accompanied by a recorded band and everybody played a few tunes on the cornet. Voila!! A band is born!
Notice that the danger of dropping a cornet is dissipating rapidly.
---
Visit Salvationist.org. Register to find old Salvation Army friends. Tell which Salvation Army corps you have attended in the past and now. Your friends will be able to find you. We've found friends we hadn't seen in thirty years within minutes after registering.
Back to the Radiant Crest
Tell your Salvation Army friends about this website. Chapter Ten about our Seattle Temple Corps Experience is going to be very interesting, but you have to read every chapter in order to understand Chapter 10. You won't be disappointed.

---
Webmaster : Dr Dan drdan71@aol.com
Dan Ross Bonna Ross Jordana Ross Dan & Bonna Ross Dan and Bonna Ross drdan71, drdan71@aol.com cornucopiagenealogica 09/30/03
Make a Family Tree on Ancestry.com - It's Free!! Click on the banner below: