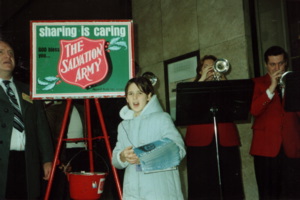 There were always children there to put coins in the buckets for the TV spots. The spots were broadcast on Saturday when there was plenty of traffic on the sidewalks and streets. They were then broadcast on Sunday when downtown Houston was entirely empty and all of the stores were closed.
In addition to local on the street with the kettle shots, we also were televised from "The Great Caruso." This is a fantastic restaurant in Houston that served a choice of two meals: Prime Rib or Chicken. We played two sets every night for a couple of weeks before Christmas. In between sets, we were provided with the best food you can find in Houston. "The Great Caruso" has a musical program along with the meals with fantastic vocal soloists providing musical entertainment throughout the meal.
We were also televised from a bandstand built in a mall for us in Orange, Texas.
In addition to television, we broadcast a Christmas program on the radio in Orange, Texas, which was where Bob Clemons was stationed. We were on the steps of City Hall which was closed for the day and the radio show was broadcast out of a Volkswagon bus. In between musical selections, the show's host would talk to Cpt. Clemons about the Kettle program.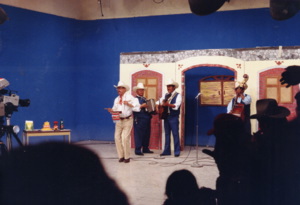 On television in Reynosa, Mexico, we followed a singing cowboy show.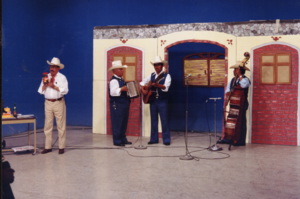 I love Mexican music and Mariachi bands. These guys were pretty good. Television in Reynosa was "interactive." If the audience liked what was going on, they would call in and the station manager would keep the show going until the calls stopped.