The Salvation Army Texas Gulf Coast Area Band Venues
Inside Texas, Not Including Mexico - Click a City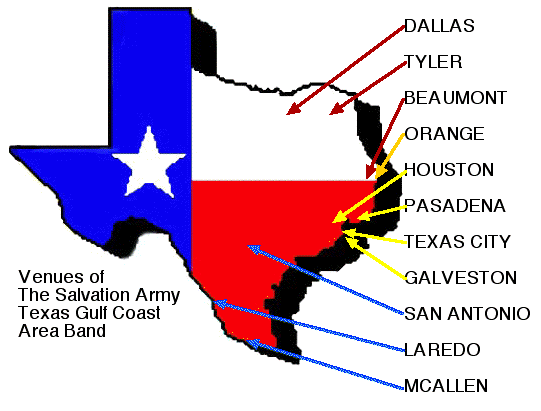 The Salvation Army Texas Gulf Coast Area Band played so many places that I don't remember half of them. We played in Houston, Texas City, Galveston, Pasadena, Tyler, San Antonio, and other places that I just couldn't get the names of. We played in malls that were in some town or other, but I was too busy to pay attention half of the time. All I knew is that when the bus stopped, we got out and either ate lunch or played a concert.

Fortunately I do remember SOME of the places so I'll tell you about those.

Hear Great Salvation Army Brass Bands on your computer. While waiting for the music to start, scroll down the page to read my histroy with the Salvation Army.

Lots of Pictures Coming ...

Back to the Band Crest

Tell your Salvation Army friends about this website. Chapter Ten about our Seattle Temple Corps Experience is going to be very interesting, but you have to read every chapter in order to understand Chapter 10. You won't be disappointed.

Dan Ross Bonna Ross Jordana Ross Dan & Bonna Ross Dan and Bonna Ross drdan71, drdan71@aol.com cornucopiagenealogica 09/30/03
Make a Family Tree on Ancestry.com - It's Free!! Click on the banner below: