Band Practices of The Salvation Army Texas Gulf Coast Area Band

Hear Great Salvation Army Brass Bands on your computer. While waiting for the music to start, scroll down the page to read my histroy with the Salvation Army.

When I joined the band, practices were held at the Adult Rehabilitation Center. The Officer in Charge of the ARC also played Alto Horn in the band. Our practices were three hours long, from 9:00 AM to 12:00 noon. We would then have dinner just before the men came in to eat.

After a year or two of this, the horn player was transferred and a new ARC officer entered the picture. The first thing he did was decide that it just wasn't right that we would be eating the food provided for the men in the program so the band practice was moved to the Houston Temple Corps building. We had the same setup there. We practiced for three hours and then had lunch at the Corps building. The Salvation Army got it's money's worth out of this. Major Frierson's favorite quote was, "If it weren't for this band, nobody in Houston would even know the Salvation Army existed here." It was true, we played before the public at least 125 times the last year I was bandmaster. I would estimate that for every hour we spent in band practice, we spent two hours playing in public.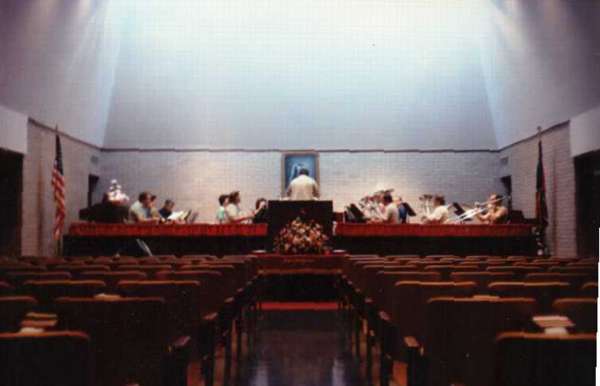 The Salvation Army Texas Gulf Coast Area Band in Reheasral at The Houston Temple Corps
During its existence, The Salvation Army Texas Gulf Coast Area Band rehearsed in the Adult Rehabilitation Center half of its life. This is the Houston Temple Corps Hall to which the band moved for rehearsals the other half of its life. This is the brightest platform I have ever been on. there are no windows in this room except the huge skylight above the platform. It was absolutely dazzling on a summer Sunday morning. The Area Band only played concerts in this corps once or twice a year.
Back to the Band Crest

Tell your Salvation Army friends about this website. Chapter Ten about our Seattle Temple Corps Experience is going to be very interesting, but you have to read every chapter in order to understand Chapter 10. You won't be disappointed.
Dan Ross Bonna Ross Jordana Ross Dan & Bonna Ross Dan and Bonna Ross drdan71, drdan71@aol.com cornucopiagenealogica 09/30/03
Make a Family Tree on Ancestry.com - It's Free!! Click on the banner below: